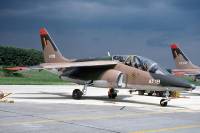 In order to replace the T-33 Shooting Stars and the Fouga Magisters, a contract for the delivery of 33 Alpha Jets was signed on 11 October 1973. The first aircraft (AT-01) was accepted by the Belgian Air Force on 6 October 1978, reaching Brustem training base on 13 December of that year. The last Alpha Jet (AT-33) was delivered on 15 July 1980.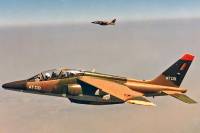 First unit to receive the French-German trainer was 9 Squadron (Green Cocotte) followed by 11 Squadron (Bat) and finally, a year later, 7 Squadron (Red Cocotte). At the time, these three squadrons were part of the Centre de Perfectionnement/Vervolmakingscentrum (Improvement Centre) at Brustem air base. Its designation changed to Wing d'entraînement et d'instruction/Opleidings en Trainingswing (Training and Instruction Wing) in April 1984 and to 9 Wing d'entraînement/9 Trainingswing (9 Training Wing) in 1987. All Alpha Jets were transferred to 1 Wing d'entraînement/1 Trainingswing (1 Training Wing) at Beauvechain on 19 November 1996 following the inactivation of 9 Wing and the closure of Brustem.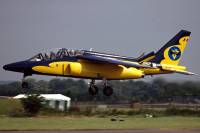 The Alpha Jets are primarily used for pilot training. They cover the Advanced Flying Training (AFT) and Initial Operational Training (IOT) part of the training syllabus. Additionally the aircraft is used for Dissimilar Air Combat Training (DACT) and is also flown by staff pilots to maintain their flying hours while they are assigned at Headquarters. For this task, a Continuity Flight has been created.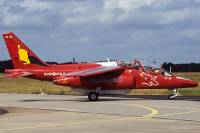 Starting in 2000, the Alpha Jets went through an upgrade program. This included a new HOTAS-technology stick, a Smart Head-Up Display (SHUD) and an Up Front Control Panel (UFCP) in the front cockpit. The rear cockpit received a Smart Multifunction Display and a video recorder. New navigation equipment were also installed including an Inertial Navigation System (INS) combined with a Global Positioning System (GPS). With this retrofit, the new expected retirement date for the Alpha Jet is 2015.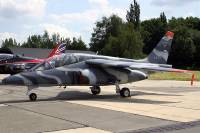 In the summer 2004, a detachment of seven modernised Alpha Jets (Alpha Jet +) was set up at the French training base of Cazaux. The size of the detachment was progressively increased until it reached 25 aircraft in the fall of 2005 under the control of 11 Squadron as part of the French-Belgian Advanced Jet Training School . The Initial Operational Training phase of the syllabus is conducted at Cazaux with the French taking advantage of the modernised Alpha Jets and the Belgian pupils being trained by French instructor pilots. Since the departure of all Alpha Jets to France, 7 Squadron only operates the Fougas at Beauvechain.